October 26th, 2006 at 8:06 am by james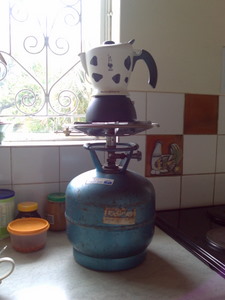 I'm up early on a misty East Coast morning with a little girl who seems incapable of sleeping beyond 6. She's also very nearly walking. Some people have seen her take eight or nine steps unassisted. Not me, but I've seen her take three. Pretty soon she's going to be fully mobile and dominating (in the Unreal Tournament sense of the word).
It's beautiful outside. Not the same kind of beautiful as Cape Town – a wilder, more subtropical beautiful. There's been lots of rain this season and the countryside is a mix of lush green tones. The groves of thorn trees at the Fish River crossing are all brilliant green, which we've not seen ever before. For those of you for whom thorn trees (especially groves of) are not the norm, the other seasonal extreme is full of browns and greys and the thorn trees are silver.