July 26th, 2005 at 10:52 pm by james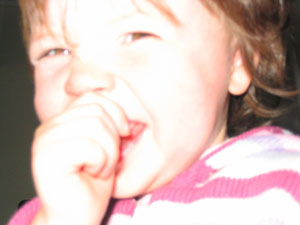 Josie was on top form this evening, telling me animatedly about her day, apparently spent popping balloons with her friends and then throwing them in the bin. Her improvement in mood may be down to her condescending to drink a little. The last couple of days she's insisted on drinking almost nothing, leading to a tell-tale "thunk" at potty time and complaints of "botty sore". I explained last night before bed that she should really drink lots of water because it's very good for her botty and would stop it being sore. We counted the cups she drinks and the cups daddy drinks (drank, technically, before going back onto caffeine and beer). She apparently took me at my word and has drunk more today than in the last week combined.
It always surprises me when she takes advice to heart. We hover in that uncertain space between her capacity to understand (which, frankly, is staggering), her very clear understanding of what she wants, and her ever present two-year-old delight in refusal regardless of what she wants.
In other news, our neighbours have invited a laughing horse over for after-dinner drinks. Some people can make conversation, others are condemned to a social life consisting entirely of laughing at the tops of their voices in a vain attempt to flatter their hosts, cover their drunkenness and appear "lively", "with it" and "hip". It's very sad. Aah well, perhaps if I put the extractor fan on in the bathroom I won't quite hear her through the walls. Please don't let her stay over, I've heard her in the throes of conversation, I don't think I could survive much more …