July 25th, 2005 at 11:00 pm by james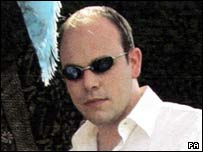 I met Jeremy a couple of weeks ago, just for about an hour. I found him a man as full of life as you could wish; engaging, confident, eloquent and quick to laugh. I looked forward to working with him. Today he was declared missing following the blasts in Sharm al-Sheikh.
He wasn't a friend – he was barely an acquaintance – but I'm still sad, and if he doesn't return I shall miss him.