March 24th, 2007 at 8:25 pm by james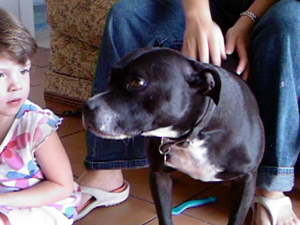 Having exhausted most avenues and visited DARG on numerous occassions to view "staffies" we were wondering whether we would ever love a staffie again. Michelle decided she would get a Yellow Pages and phone all the vets in the area to see if anyone was moving abroad and advertising a staffie on their boards. On about the fifth call she struck gold and was the first to call a delightful guy who'll be moving to the Netherlands shortly. He wanted to come and check that we'd be good carers and after a short visit agreed to leave Ruby with us immediately.
She has fully explored our property, dashed about manically getting to know us, and stretched out and fallen asleep in the sunshine. She's a wonderfully good-natured little dog and we couldn't be happier. She's snoozing in the lounge now.
Josie's taken her for a walk twice today. Accompanied.