March 23rd, 2007 at 12:14 pm by james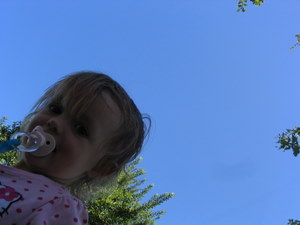 Sophie's right as rain. They never did find the problem, but she's completely back to her little old self.
It's hard to believe we've been in our new house for six whole weeks today; time has flown by. We've had visitors for four weeks of the six and I've been travelling around the country far more than I should like.
It was wonderful to have the Coxes to stay. We had great fun – we did loads of stuff (they did more) and lots of catching up. Highlights were going up Table Mountain on the cablecar on a spectacularly beautiful day and eating at Fairview in 40-something degree heat. I think they had a good break – certainly enough of a break to make Sunday's hail and sleet on their way home a shock to the system 🙂
The roster of visitors is filling up with Hayley around sometime in June/July and the Schonkens planning for late July. I spent a great evening with Tim and Claudia and the boys in Durban on Monday and we're looking forward to seeing them in Cape Town in June.
Now that we're home alone the "things to do" list is growing at an alarming rate: a sure indicator that it's starting to really feel like home. I've installed my first Gate Automation System, which was fun. I've learned how to look after a swimming pool (sort of). Still to come are gardening, painting, flooring, grey- and rainwater systems and, eventually, some solar heating. Michelle will fill you in on the things that have slipped my mind …
I am looking around for opportunities to employ my modest experience around carbon issues gleaned over the past few years. Focus in South Africa is growing, although it's got a very long way to go. So far all my knowledge is working on is my conscience as my air-travel averages 13 hours per week year-to-date. On a slightly more positive note I have found that good journalism is alive and well in South Africa despite the impression given by the daily papers that all that's on offer are learner-writers with a reasonable grasp of sensationalism but very little else. There are one or two cracking weeklies and monthlies full of excellent writing. And more importantly full of hope.
The misty and damp and still weather has begun in Cape Town. My other favourite kind of weather.