November 6th, 2006 at 7:33 pm by james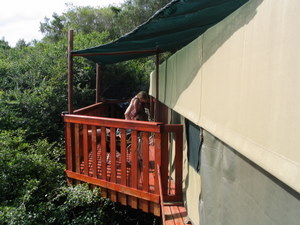 We're back in Cape Town by way of an eco tree house in the canopy of indigenous forest near Knysna. It was spectacular (specially the dry composting loo) and a very good break in just two days. We were surrounded by the very tops of ancient Milkwoods and Yellowwoods. The birdsong in the morning (before the girls woke up) was incredible. Once the girls were awake the birds – with the exception of the resident Cape Robin – ran for cover; we didn't exactly find tranquility in the forest.
We highly recommend stopping off if you're passing by. Their website is Teniqua Treetops. The Eyrie is toddler friendly if that's important to you. Pics in the gallery.
Our last few days in East London were cracking. We saw more whales, the Linstrom brothers, and other East London institutions. We'll no doubt be back before long.
I dreamed about Myles last night (again). He had a new joiner responsible for surveys of electrical plant at clients' sites whom he had instructed to answer the phone: "Good morning, Her Majesty's Infrastructure Services how can I help you?"
I'm sure I laughed out loud in my sleep.