September 3rd, 2006 at 10:22 am by james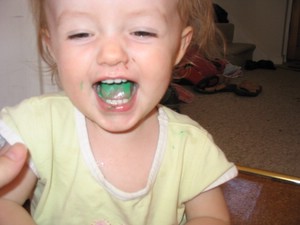 Josie was really quite worried. Sophie had found a green disk of watercolour that had misteriously fallen out of Josie's paint tray right in front of her.
Last weekend the delightful schonknechts visited. It's always a pleasure to spend time with them and Josie and Ben get on brilliantly. Josie is still confused between Ben and Anna, ben and anna, and Ben and Helena such that when ben and anna visit anna is called Helena and ben is Uncle Ben. Hopefully when next she meets Uncle Ben it'll all become clear.
This weekend Vic, Maurizio, Jess and Amelie are visiting. Josie was beside herself with excitement – she found out they were coming 15 minutes before they arrived. Most excitingly they have Jet-the-dog with them. Josie and Sophie were up first this morning and came into the lounge while Jet was still sleeping. They let her out for a wee and gave her water and showed her where the best bits of leftover food were on Sophie's highchair. "Ooh! Good boy!"
When speaking to dogs Josie pronounces "boy" like Americans pronounce "buoy". Very cute. For a split second I found myself thinking we should get her a little dog. Just a split second mind …
We've had all three removers in to quote now and the first quote back. There's still lots to be got rid of / sorted out. And there's still so much that's completely irresistable on eBay …
The purchasers of our house have convincingly missed the date we'd agreed for exchange of contracts, so we've had valuations done for rental and will put the house on the rental market next week if nothing moves on the exchange front. We'd prefer to sell but we can't afford to have an unsold empty house when we leave in four weeks!
I took a couple of days holiday last week and we went to London on Wednesday to see the Howard Hodgkin exhibition at the Tate. It was wonderful – he's Michelle's all-time favourite. They've got a great setup at the Tate for kids. There's a station with five or six different art/craft activities each of which has a stack of materials to choose from. Josie chose to make a mask and picked out loads of stuff to cut and stick. It all went on a tray for her to carry around and work on when we stopped. They must have some terrific CCTV footage of kids sitting on the gallery floors cutting and sticking and drawing.
There are some pics in the gallery (none of the Tate activities as there's no photography allowed).