November 13th, 2005 at 11:13 pm by james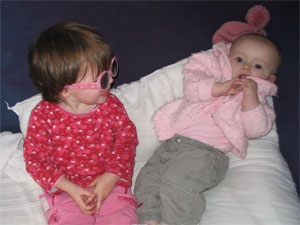 It has been a real pleasure coming home to the Three this weekend. Josie woke on Saturday morning with, "You come home." Simple as that. Lots of cuddles but no further questions. Sophie is as placid and good-natured as ever except, perhaps, when she has a really bad time coughing at which point we've imagined we see a definite foreshadowing of "PLASTER! P-L-A-S-T-E-R!".
Michelle is a star and a blessing. She's raising two wonderful daughters and is outshining them in wonder and beauty and all-round quirkiness at every turn. They're lucky to have her. As am I.
Lots of walking (in the cold I'm suddenly not used to) and planning and dreaming this weekend. It's been fun.