October 18th, 2005 at 6:16 pm by james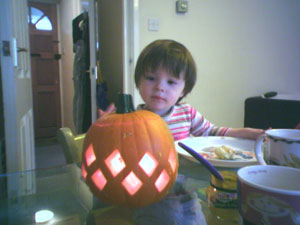 The shops are inexplicably full of pumpkins at the moment, so Michelle and Josie made a lantern. Novel, I know. It's this kind of unprompted spontaneity just sparking off around me that keeps me sharp.
Jo's getting more fluent by the hour, and developing logic very quickly too:
"Dad, watch telly please?"
"No darling, it's not telly time."
A little later …
"Mum. Not feeling well. Need watch telly."
That's playing us off against each other and reasoning in one sentence. Impressive. We called her Jocelyn so that she could choose her own rules of engagement – Jocelyn, Joss, Josie, Jo or J – and she's going to be formidable.
I'm feeling Really Rather Rough. Embargo on all journeys more than 15 minutes round trip from a toilet.