September 19th, 2005 at 9:07 pm by james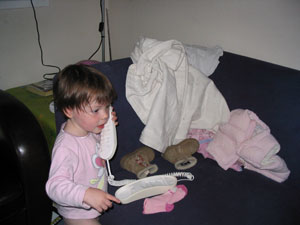 Josie's an accomplished telephone user at the age of 2-and-a-third. On Saturday we got free calls to South Africa with our calling card so Josie chatted to Nan, to Gareth (who'd just got the family home after Anthony's birth so probably could have done without entertaining mine too), and to Pete and Ros for ages. I photographed and video'd her talking to Pete and Ros, I got that bored.
phpWebHosting.com was down yesterday so so were we. Very very annoying. I wrote lots of very nasty things about them yesterday but in retrospect if I enjoy being left alone by them the rest of the time then perhaps I shouldn't complain if they don't communicate with me about downtime. Better keep my backup schedule running …
Most of the fence went up today, it's looking good.