September 16th, 2005 at 9:54 pm by james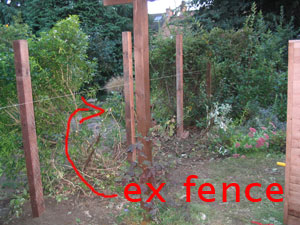 (now in skip; decimated garden apparent)
Ice lolly, Dad?
You eat your egg and I'll get you an ice lolly.
Yum. You get lollipop.
Yes, you eat your egg.
You get lollipop.
After you've eaten your egg.
Aaaaarrrggh! (is there no justice in the world?)
Josie, you eat your egg and I'll get you a lolly.
OK
Eat your egg then.
Get lolly.
Aaaaarrrggh!
One expects to be able to leave this kind of conversation at work.
I'd planned to spend today assessing tenders for a major system implementation. Instead I reviewed a new standard desktop build; re-assessed the inter-dependencies between implementing IP telephony, completely refreshing our hosted infrastructure, delivering three large pieces of bespoke development and commissioning a new contact centre (all of which deliver in the next 12 weeks); and kept up to date with an ongoing service outage.
Now I make it a point never to write about work here but it has to be said, in the interests of expurgating the last remnants of the working week from my tortured psyche, that if my working days were filled with fewer conversations like the one above I would have been assessing tenders today. They're good conversations to have at home with Jo. She learns and adapts. It's like playing a Deathmatch against a beginner, it gets more difficult every time. Other conversations I could quote (but won't) are just uniformly futile; I sprint around the Gothic castle, finger hovering on the trigger, every nerve twitching, only to realise belatedly that I'm the only person in the building. What I need is a better HUD.
At least the deck-man's making good progress. I was quite jealous of him today, working out there in the sunshine without a care in the world. Then it started tipping with rain, he couldn't get one of the posts quite vertical on his own and his concrete was getting too wet. I'll stick with my brand of stress for the moment thanks very much.
He's put in fence posts that match the pergola posts, an effect I enjoy but which I'm sure will be completely lost once the fence panels go on. Posts finish going in on Monday and decking starts on Tuesday. He's doing an excellent job. I'm not sure how I'm going to get through a weekend without access to my garden shed.
Some new pics in the gallery including a few of the garden such as it is.