July 1st, 2005 at 9:36 pm by james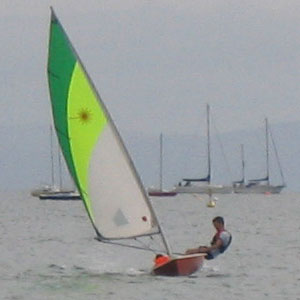 A quick sail before the weather closed in today. Josie is the orange blob on the left.
Highlights in brief:
All traipsing down to the beach and a quick sail with Jo before the weather closed in and it pissed with rain for the rest of the day.
Driving to Porthmadog to visit Portmeiron by way of the seafood festival in Pwllhelli. Bought some excellent organic lamb at the festival (I know …) and Jo slept all the way.
The weather systems around this bay are peculiar in that you can be absolutely sure that if the weather's rubbish on this side of the bay it will be completely the same on the other side. Decided to skip Portmeiron and had an excellent jacket potato in Porthmadog instead.
Visited Lidl, carefully avoiding Gelert store and prospect of spending lots of money on equipment we're now sure we'll use when Sophie's a little older. Very nearly bought a portable dvd player for the car in Lidl instead. Decided to compare specs first. Almost certainly should have bought it.
Mum-in-law sitting with Josie in the back of the car teaching her to sing "pat-a-cake" in a gruffalo voice. I would have her sitting in the front with me to avoid the future embarassment but I'm afraid she might try to teach me.
Excellent rack of lamb with a decent merlot, very slightly marred by a very tired Josie but made up for by the rest of the company.
The prospect of getting to bed before 11! Woohoo!
Pics from the first part of the day and Sophie's bath in the basin in the gallery.