April 3rd, 2008 at 6:25 pm by james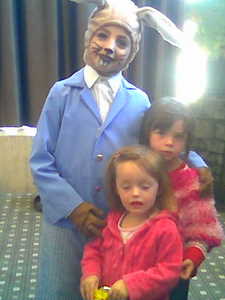 My brother Pete was visiting the day Granny and Grandpa took the girls to see Peter Rabbit. We got the full story played back on their return, then:
Josie: Hey! Peter! I want to tell you something. Your name's the same as Peter Rabbit's!
Peter: That's right Josie.
Michelle: And Jo, what's Daddy's other brother's name?
Josie: Ummm …
Michelle: It's the same as a rabbit's name.
Josie: Ummm … Flopsy?
Ben, I'm afraid it didn't matter how much we tried to explain "cousin Benjamin", it's Flopsy, Mopsy or Cottontail for you.