April 3rd, 2008 at 5:18 pm by james
As night falls two small girls hone their tracking skills …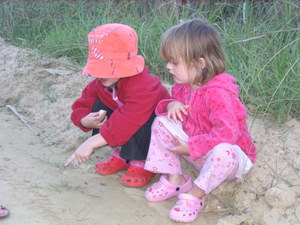 The deer tracks are just next to the tyre tracks. Really.
We went on holiday the week before Easter to Wilderness, about four hours drive up the East Coast. It was very beautiful and we had a lot of fun. Unfortunately the accommodation we chose wasn't really suited to little chidlers, so much energy was spent staying away from home for as long as possible. We had a very relaxing Easter weekend back in Cape Town 🙂
Pics in the gallery.