May 20th, 2007 at 8:47 pm by james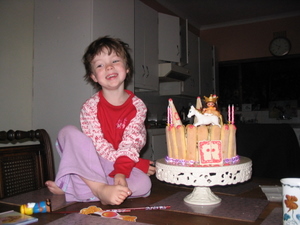 We had Josie's Cape Town birthday party yesterday. When Jo got up the sky was just lightening and the clouds were a gold colour: "Daddy, that's the colour I'd like my birthday cake to be." Thanks to the tremendous foresight of her dear mother I was able to seat her at the table and turn on the lights to reveal a cake to suit.
It turned out to be an in-the-dark birthday party because the huge storms we've been having took out the power for most of the afternoon and also hid most of the sun. We lit a fire and smoked ourselves gently while gorging ourselves on the treats Michelle had prepared. A good time was had by all.
New pics in the gallery.