September 12th, 2006 at 8:35 am by james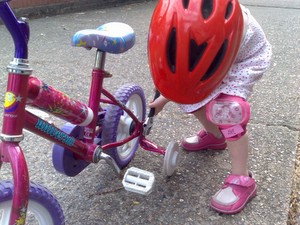 Josie got her first bike at a car boot sale on Sunday. Needless to say, she's been riding quite a bit over the last couple of days. Best of all the bike will disappear into a container in a couple of weeks to reappear just in time to be a Christmas present.
We shifted an immense amount of junk this weekend. The garage and the shed are done and we're making inroads into the loft. We filled a 6-yard skip over the weekend and we've got more listings on eBay than we've ever had before. The plan is to eBay all we can this week then garage sale next Sunday … hope it all goes!