July 31st, 2006 at 5:00 pm by james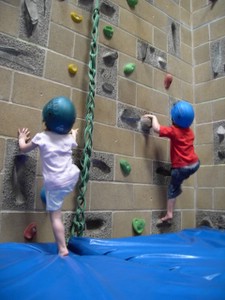 We had a fantastic weekend with the Schonkens and the Midgleys. It's a pleasure to spend time with people you get on with so well and – as important – whose children get on so well with yours.
BBQs, Pimms, indoor climbing, tennis and lots and lots of talk. Perfect.
It feels strangely lonely coming home to a place where people have only known us for six years. There's something about school friends that I don't think I've really appreciated before.
Pic above pinched from Phil and Mel's camera. Pics from Friday and the weekend in the gallery.
Lots more to follow when I have a chance to negotiate copyright with Phil …