May 6th, 2006 at 6:47 pm by james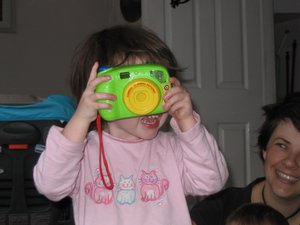 This camera was the star of the show. My cheeks are aching from saying "cheese" while Josie clicks through pictures of animals. What the picture doesn't show is Josie's skates that she has refused to take off for most of the afternoon. She did a lot of skating on the deck this morning before the rain started. It took three falls for her to figure out how to get up by herself (much hilarity), and by lunchtime she'd stopped falling. When the rain stops we'll hit the road …
Pics of Jo fully kitted up in crash pads and skates in the gallery.
Josie read all her birthday cards to us as she opened them. Here's the one from Mark, Sarah, Elspeth and Jemima:


Josie reads her card from the Coxes
She also insisted on reading us her new Flower Fairies book cover-to-cover. In the midst of present-opening that's quite an achievement for any book!
We viewed a very nice house earlier this afternoon. Not sure it's the one for us, but it's nice to see something good out there.
We've had a good day – next weekend's the party …