December 25th, 2005 at 2:29 pm by james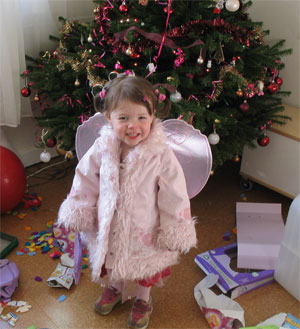 Josie grew wings overnight, so perhaps the dreadful larval stage is over. Of all her presents she insisted on carrying a little handbag to church this morning (in addition to the inseperable wings). When the music started she opened up her handbag, whipped out a harmonica she had stored there against just such an opportunity and started playing along. Not quite in the same key. I cried I laughed so much.
Sophie opened some presents of her own and was particularly taken with a pair of maracas which make a great noise as she tries to eat them.
If there's time after our walk we'll publish some pics …