November 8th, 2005 at 11:48 am by james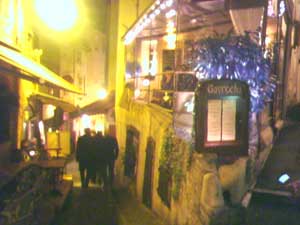 Three or four thousand IT people have decended on Cannes like the tide and I've been swept along with them. I stumbled down to the station at the crack of dawn yesterday and wound up in the south of France. Gartner's annual conference is without parallel and single-handedly extends Cannes' season. Try booking a hotel room in Cannes next week; at least half of them are closed. The old-town street, above, where we enjoyed a very nice dinner last night is packed full of restaurants end-to-end, about fifty or sixty of them I guess. Fifty or sixty beautiful, tiny, authentic French restaurants in the old town part of Cannes (that's the end where a beer costs 2 euro not 9). They were all booked out for conference delegates.
Every hotel on la Croisette is full. Full of predominantly male, predominantly aging IT leaders. Next year one of them will be one short of full; I'm going to move back down to the old town end of the strip where I was last year. More space, less pretension, better view and lots of locals.
The weather's beautiful and if you can manage to get out well before breakfast Cannes is absolutely stunning, the air is fresh, the Mediterranean is still and shimmering and there's no-one about. I can't imagine what a scrum this place must be in peak season.
Sophie's battling with a terrible cold, coughing and choking and with such a sore throat that when the Calpol wears off she throws up. The doctor said she was OK last night and recommended Calpol for Sophie and gin for Michelle. I wish I was home to help.
No really.
No, if you knew me you'd know I mean it.
The Christmas lights are going up in Cannes. It seems strange in warm sunshine – it's obviously been a few years since I had a summer Cristmas.