August 9th, 2005 at 10:32 pm by james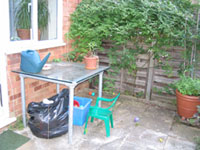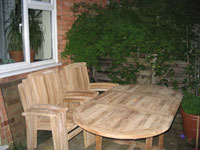 The table arrived as promised today – very impressive service. It's my kind of furniture, too heavy to lift and with six little hardwood dowels to be banged into the table leg assembly to secure it. Makes me feel like I wrought the whole thing myself of a raw tree with only hand tools. Fortunately it came with three spare dowels …
In other news, I had time between my meetings today to compile an actions list; I expect to get to start working through it between 12.30 and 1 tomorrow, and 10.30 and 11 on Thursday. Sublime? Ridiculous? Offers, anyone?
Josie has a new swing that doesn't need pushing. Could this be the end of, "swing-swing?", "swing-swing!", "SWING-SWING DADDY!"
When I came home she dragged me outside ("Show you! Show you!"), climbed onto her green chair, grabbed the trapeze and leapt. Great fun.
Some pics in the gallery, including Josie swinging, Sophie in a hat, Josie drawing and a great big table. Roll up! Roll up! One and all …