June 24th, 2005 at 2:34 pm by james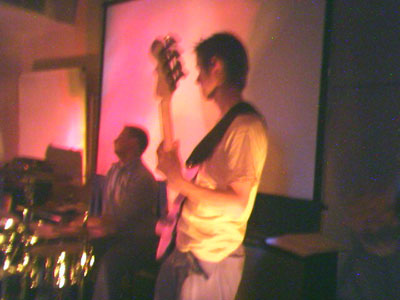 That's Adam doing his thing on the bass in the work band – fast becoming an institution, and a very good one at that. Grainy phone picture with no light …
I have, as threatened, skipped lunch to retire to my spot under the tree.
The Wotton House hotel in Dorking, Surrey should invest in air conditioning for their rooms. I might have got some sleep. Perhaps I should have taken the advice I was given earlier when it was brought to my attention that with small children at home I could drink until 3 and then retire to a "normal" night's sleep. I probably would have slept better. As it was I opted for quantity rather than quality and achieved neither.
It seems the situation back home was no better, with Josie needing cold baths, cloths and water before eventually falling asleep at about midnight. It is exceptionally warm. Thunderstorms at Glastonbury apparently.
I'm just too tired for this. Going to have a kip under my tree.