June 12th, 2005 at 2:14 pm by james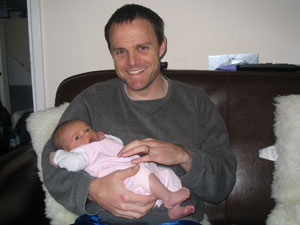 Pete and Ros visited this weekend between visiting Kew and Oxford. Josie was very excited, each time we've played on the swing this week she's asked whether they're coming to visit. They're obviously much better at it than I am. Best of all, they spent the night on an inflatable mattress downstairs, so in the morning I just told Josie they were on a bouncy castle downstairs 😀
Pics in the gallery.
Sophie had a good going over on Friday – weighed, heal-prick and all the rest. She's been feeding really well and was exactly at her birth weight. Josie took a good three weeks to regain her birth weight, which just shows they're all different – it's just not worth getting bent out of shape over differences in development. The community midwives have changed their approach since Jo was born, they now only weigh from five days, and they don't measure length at all – they leave that to the health visitors. All good stuff, apparently everyone was measuring in different ways and it was all becoming far too confusing (and no doubt needlessly panicking new mums and dads).
We popped into the Hemel Birth Centre on Friday to thank them and drop off some flowers. All the midwives who helped with Sophie were there except Sita, who we'd like to have thanked again.
Michelle has been doing a sterling job with Sophie, who had two 3.5 hour stretches last night so really does seem to be getting her days and nights the right way round gradually. The highlight of the week for me, though, has undoubtedly been being able to give Josie the opportunity to spend lots of time with me. It's good to have time to just be a husband and a dad without having to commit huge amounts of energy to other things. We had a great game of catch at church today, Josie spending much time suspended by her ankles – one of her favourite poses. When I fetched her from her toddler group this morning she was on top of a table practicing her hopping. The carers were very embarrassed – apparently some parents don't encourage that …
I think I'll be taking more holiday later this year and just staying home. Does that mean I'm settling down? Naah, can't be.