June 5th, 2005 at 9:30 pm by james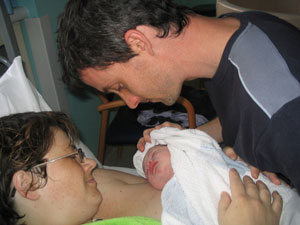 Miss TBA Adlard was born at 12.12 today weighing in at 8 pounds 91/2 ounces. Mum was terrific and baby is well, in that newly squashed sort of way that babies are on day 1.
Michelle evidently decided, when she got up at 6.30, that today would be the day. We were at the Hemel Birthing unit (an absolutely superb midwife-led home from home we would recommend to anyone; the en suite was certainly cleaner than ours) by 9.30 and the new arrival was newly arrived not three hours later with no pain relief other than warm water and two paracetamol. This is not something I understand, it's something I marvel at. Michelle enjoyed this birth.
Unfortunately the little girl didn't breathe for a few minutes after birth so had a bit of oxygen and mum and baby were transferred during the afternoon to Watford General so that baby could be monitored for a few hours. Paediatric staffing being what it is, they are still there while Josie and I are at home drinking Harviestoun's excellent Bitter and Twisted, thanks to Mark. Well I am, Josie's asleep.
It is a source of immense irritation to me that my wife and child aren't home with me. Quite apart from having to cook my own dinner, the whole rationale for this state of affairs is wrong. I asked three people at different times whether they'd be able to come home tonight (Michelle wants to, and I enjoy cooking for her).
The third, not to bore you with the first two, told me my wife had run a marathon and needs rest. What? Where was I? Did she win? And when did my wife learn to rest better in a 25C ward with four babies taking it in turns to scream the place down rather than in our nice quiet loft conversion? I thought this was about monitoring the baby's breathing? If there's something wrong with my wife could they perhaps tell us that?
I confess we gave up. We couldn't in all fairness ask to leave – there might be something seriously wrong with the little piglet. It does seem that after such a positive start to the day at Hemel, the machine's grabbed hold of us at Watford General and is working hard to destroy the warm, confident, satisfying experience this birth has been. Tell you what, they better bloody be monitoring her tonight.
We are, of course, delighted with the little girl and I look forward to having everyone home safe and sound soon 🙂