October 25th, 2008 at 4:25 pm by james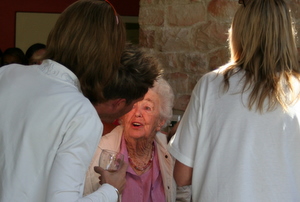 She's certainly not "unchanged" in the Bilbo Baggins sense, but "well-preserved" doesn't remotely do justice to my gran at ninety. She's a spritely 90, a vibrant 90; a little more wrinkly than last year perhaps; short but not as short as the pic suggests – I liked the lighting, but she's rather unfairly surrounded by the branch of the family made up entirely of giants (not this branch. Clearly.).
Family descended from all over and we had breakfast together at Kirstenbosch. Doff had fun.