September 8th, 2008 at 7:17 pm by james
but here's a relatively tasteful one for those of you who sort of are: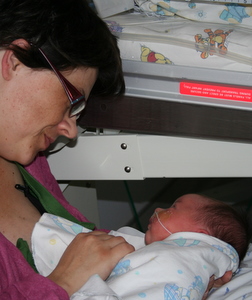 Our little girl was born at 9pm last night, 90 minutes after we arrived at the hospital. The birth was traumatic for her and she took a while to adjust, with a very poor apgar at 1 minute, getting better as time progressed. She spent the night in the high care unit on a drip and monitors and by this morning everything was as it should be.
She's feeding well now and we expect to be all-at-home-together tomorrow.
We'll settle on a name when we've spent a bit more time with her.
MGW is an absolute rockstar.