June 5th, 2008 at 9:27 am by james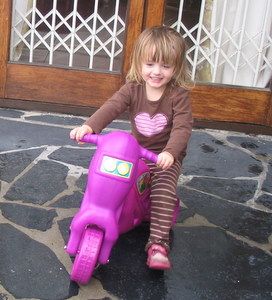 Sophie woke at 4.15 and sat up in bed with a huge grin on her face refusing to go back to sleep. We moved her to our room and she eventually dropped off. When Jo woke she sang "Happy Birthday" to Sophie in bed before she realised Soph wasn't in the room; she came dashing through to give her a hug.
Sophie's bike, above, has become permanently attached to her left hand except when she's playing with her tea set.
Tea at Granny & Grandpa coming up and toddler group in the afternoon.