November 8th, 2007 at 11:17 am by james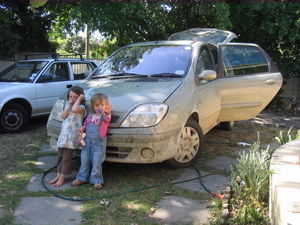 One week in The Wild. No mobile reception, no interweb. Just perfect.
We stayed at De Hoop, which is a marine reserve and at this time of year midweek has a very sparse human population in contrast to a burgeoning population of baby creatures of all kinds, from whales to tortoises. The girls were in their element.
We were befriended by a pair of Frankelin – impressively identified by Josie as CinderellaBirds named Cinderella and Prince Charming – who brought their nine baby CinderellaBirds to visit. Sophie was SO excited by the variety of birds visiting our veranda. She learned quite quickly that running at them to try to pick them up was unfruitful.
We explored rock pools, slid down sanddunes, crossed a river with the car on a pont, lost a tyre on dirt roads between Malgas and Witsand, got stung by bluebottles, looked at property in out-of-the-way places and generally lost ourselves. It was one of the best week's holiday we've had.
Pics in the gallery.