September 19th, 2007 at 11:37 am by james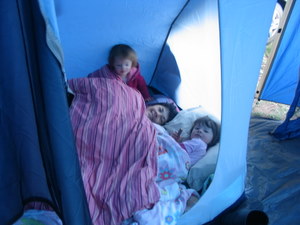 It was the warmest of times, it was the coldest of times … pre-dawn in the valley was cold enough to rival most cold experiences we've had. As soon as the sun broke through we had to be ready to peel off five or six layers of clothing as the temperature rushed to the mid-twenties in a couple of minutes.
Jo didn't seem to feel the cold; Sophie felt it in her hands; Grandpa very nearly wound up lying in state in his state room (pic in gallery) but chose instead to play buffalo to the girls' hunting endeavours (pic also in gallery).
We had a great time – and remarkably the change of scene or something made Soph forget her need for midnight bottles! We're hopeful that'll continue.
Two sets of pics in the gallery: Day 1 and Day 2.
"How's camping Jo?"
[whispers] "Dad it's great."