September 23rd, 2005 at 10:11 pm by james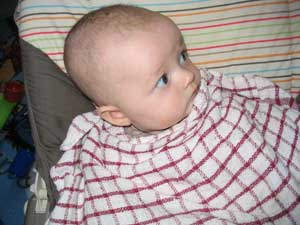 Just a little rice porridge today. The health visitor said that officially we should wait another week, but that kidneys can develop at different rates … I'm pretty sure I had porridge from birth. How else could I have learned to fling it about so expertly? Sophie slept two and a half hours today and was like a different child when I got home – clear-eyed and smiling.
The deck was finished today. Josie was beside herself with excitement and danced around it (read sprinted around it with hands over her head) for quite some time. When I got home Michelle was racing Josie around it on Josie's scooter. They've done a great job – pics in the gallery.