August 29th, 2005 at 9:54 pm by james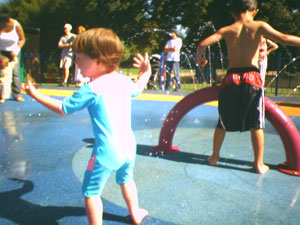 Josie moving far too fast for me to catch her front-on with my phone.
"Michelle, you're a fairy, a star, and a saint all rolled into one."
"What? A fart?"
She really is very quick.
We woke still all full of colds and flu and exhaustion but, HEY!, it's Bank Holiday weekend. We were in the park by 10, while it was still relatively empty. Some quality time on the swings and slides then a quiet coffee and ice cream stop before we found the new toddlers water play area (pic above). It's a great place – a soft surface area as big as a large swimming pool with spouts and fountains and showers all over it. The smaller sprays are always on for little kids, the huge ones have buttons to trigger them. Josie loved it although she's still not sure about the whole showering thing.
No, her hair's not red, that's my phone pretending to be a camera. Mr Camera was very usefully sitting in the living room while we were out in the sunshine.
Josie and I spent a good part of the day scrubbing down old garden furniture to put to use at the bottom of the garden. We also put up a bookshelf for Josie's books. She helped all the way up to the drilling part; she was very brave and decided to stay in and help me drill, so we were all in the living room together. I gave a little test drill in the air and all seemed well, so I ripped into the wall. I glanced up to see Michelle leaping across the room and two little girls doing their very best starfish impressions, mouths wide open screaming together.
I stopped. They went outside. I drilled the other three holes and then all was peace and harmony.
Back to work for me tomorrow, but I've taken Friday off so it's a three day working week! Mark, Sarah and Elspeth come to visit next weekend. Can't wait to see them all again …